Why Should You Join the DBA?
Professional Marketing and Branding
Website: DowntownLouisvilleCo.com is visited by thousands (we are not kidding) of people every year—DBA members get priority placement and content
Newsletter: the Downtown Dialogue reaches over 1000 people every month
Banners: the WinterSkate, Street Faire and Farmers Market banners were designed by the DBA
Direct Mail: Targeting the 15,000 homes surrounding Historic Downtown
Because the DBA WORKS to make Historic Downtown a vibrant and profitable place to operate your business. Work includes:
Planning, marketing, and operating the Street Faire—an event that brings thousands of people to Historic Downtown
Bringing WinterSkate & the Horse Drawn Carriage Rides to Historic Downtown
Outdoor Dining!
Representing your interests at City Council and Business Retention and Development (BRaD) meetings
E-Networking—we send out emails to update you on downtown business activities
Volunteering HUNDREDS of hours to bring customers Downtown
Holiday lights & Flower Pots—the DBA purchased and donated these lights to the City
Donating a percentage of the Street Faire proceeds to a local charity
What does it cost?
Membership dues are $100 per year.
The DBA is a completely non-profit organization. Your membership fees are an essential part of getting things done for Historic Downtown. Thank you!
Who can join?
Any business located in or right around Historic Downtown Louisville can join. The map shows our membership area.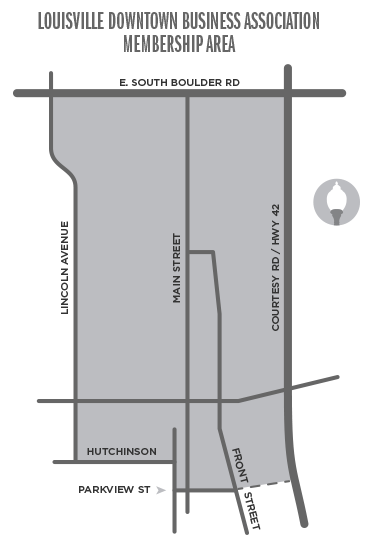 What are you waiting for?
Membership Questions? Email membership@downtownlouisvilleco.com