Why should you join the DBA?
Professional Marketing and Branding
Website: DowntownLouisvilleCo.com is visited by thousands (we are not kidding) of people every year—DBA members get priority placement and content
Newsletter: the Downtown Dialogue reaches over 3,000 people every month
Banners: the Old Town Skate and Street Faire banners were designed by the DBA
Direct Mail: Targeting the 15,000 homes surrounding Historic Downtown
The DBA WORKS to make Historic Downtown a vibrant and profitable place to operate your business. Work includes:
Planning, marketing, and operating the Street Faire—an event that brings thousands of people to Historic Downtown
Bringing Old Town Skate & the Horse Drawn Carriage Rides to Historic Downtown
Outdoor Dining!
Representing your interests at City Council and Louisville Revitalization Commission meetings
E-Networking—we send out emails to update you on downtown business activities
Volunteering HUNDREDS of hours to bring customers Downtown
The DBA created and initially funded the Downtown patios, flower pots, and holiday lighting programs
Donating a percentage of the Street Faire proceeds to a local charity
What does it cost?
Membership dues are $100 per year for a standard membership (silver), or $175 per year for an extended membership (gold).
Membership Benefits
Silver
Gold
Get listed in our directory
✓
✓
Link to your website
✓
✓
Promote your business in the Downtown Dialogue
✓
✓
NEW Show up on our map of downtown
✓
✓
NEW Access to our forum
✓
✓
Access to quarterly meetings and members-only notifications
✓
✓
A specialized listing page just for your business
✓
List events on our calendar
✓
Directory listing has a photo
(professional photo session included)
✓
Promotion on our home page
✓
Cost
$100
$175
The DBA is a completely non-profit organization. Your membership fees are an essential part of getting things done for Historic Downtown. Thank you!
Who can join?
Any business located in or right around Historic Downtown Louisville can join. The map shows our membership area.
(Not a business but you would still like to support Downtown Louisville? You can still join with a Silver or Gold membership — when you sign up, just select Services / "Friend of the DBA". Note: we do not list you publicly on our website.)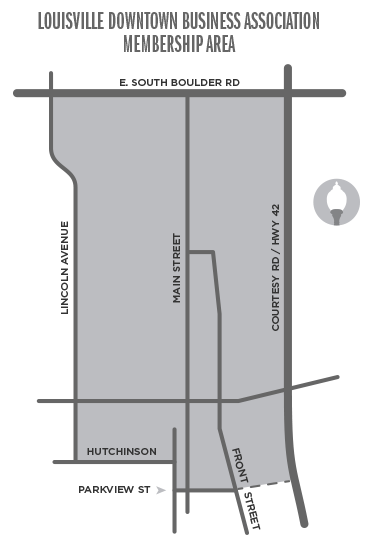 What are you waiting for?