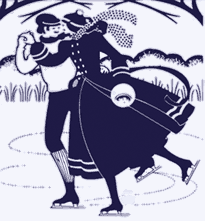 Please call 303-604-1010 before heading over!
Now in its 17th season in Louisville, WinterSkate features traditional holiday music, free horse-drawn carriage rides, free parking, a warming hut, concessions, and much more! Boasting over 6,500 square feet of ice, WinterSkate in Historic Downtown Louisville is the largest outdoor ice rink in the county.
Dates: Thanksgiving Week 'til the end of February
Location: Steinbaugh Pavilion, 824 Front Street in Historic Downtown Louisville. (directions)
Plenty of convenient, free parking!
Hours of Operation
Open Daily!
NOTE about COVID-19: Some things may look a little different at WinterSkate this year (i.e. no large groups or parties, different skating shifts, social distancing, etc.), but it is of the utmost importance to keep everyone safe during the global pandemic. We are working closely with the City of Louisville and Boulder County Public Health to ensure the highest level of safety, and we appreciate your compliance and patience with us as we all go through this uncharted territory together!
For more information, please review our COVID-19 Protocols, Procedures & Policies or feel free to contact Meg Denbow with BCE.
Subject to change due to inclement weather and/or management's discretion. Please call the Skate Shack at (303) 604-1010 before heading over!
Monday–Wednesday: 2 pm–7 pm
Thursday: 2 pm–10 pm
Friday: 12 pm–10 pm
Saturday: 10 am–10 pm**
Sunday: 10 am–8 pm**
Holiday Hours
Christmas Eve (Thu. 12/24): 10 am–3 pm**
Christmas Day (Fri. 12/25): 12 pm–5 pm**
New Year's Eve (Thu. 12/31): 10 am–8 pm**
New Year's Day (Fri. 1/1): 12 pm–8 pm**
School Vacation Hours
(Dec 21–Jan 3)
Monday–Wednesday: 10 am–9 pm**
Thursday–Saturday: 10 am–10 pm**
Sunday: 10 am–8 pm**
** NOTE: 2-hour shifts for skating will be enforced during weekends, holidays, and school breaks. Please be sure to call in advance to secure a time slot.
Admission
Skate rental included with admission price!
Adults & Kids 4+: $10
Children (ages 3 & under): FREE
Additional info:
Skate Shack 303-604-1010
See www.bceproductions.com for details on punch cards, group rates & parties.
WinterSkate in Historic Downtown Louisville is Sponsored by:
The City of Louisville • Coca-Cola • Eldorado Natural Spring Water • Boulder Magazine • ListenUp