Certainly, a sign of the times is the sight of so many wearing masks. While wearing masks helps prevent the spread of coronavirus, the act comes with a troubling side effect. Wearing masks obscures so much of the emotions shown on our faces. It's really difficult to see if there is a smile or frown lurking.
One look at the masked faces of Brandon Miller and TJ Ingraham, however, hides absolutely nothing. Looking into the eyes of the owners of Verde Louisville Restaurant, you see two fine young men who are in a world of pain. The pain is raw and it is real.
Three years ago, Brandon and TJ embarked on a journey that perhaps only the likes of Brian Griese and David Aebischer could understand. Griese replaced Hall of Famer legend John Elway as Broncos quarterback. Aebischer replaced the greatest goalie ever, Patrick Roy. So, who did Brandon and TJ replace? Only the venerable Blue Parrot, the restaurant that had occupied the space at 640 Main Street for 98 years. Run by several generations of the Colacci family, the historic Blue Parrot closed its doors for good in 2017. In February, 2018 Verde opened in downtown Louisville (another Verde opened in Boulder in 2014). Brandon and TJ's vision was to create a restaurant that served the kind of authentic Mexican food they grew to love as students at the University of Arizona. Their mantra became: "Work hard. Be nice. Eat burritos."
Every small business owner understands the difficulty of start up. The Louisville Verde was building momentum. Beautiful spring weather, summer crowds, and Street Faire made Brandon and T.J. bullish about 2020.
For Brandon and TJ, the news of March 16 was like getting hit in the head with a 2 x 4. On that day, Governor Polis said that all restaurants in Colorado would have to shut their doors. "You see it in the news, but it doesn't hit home until it is here in your own backyard," remembered Brandon. "It's here. It's not in China. That was an awakening moment."
"My first concern was our employees," remembered TJ. "So many of them live paycheck to paycheck. We were worried for them and their families." In the days that followed, General Manager Markus Suarez gave the Verde employees the news that no one ever wants to hear: all would laid off indefinitely. Marcus said "everyone understood the situation."
For the next 4 weeks, it would be just TJ and Brandon alone working to keep Verde alive. Such is the glamorous life of being the owner of a small business. On March 26, TJ's wife gave birth to a beautiful baby boy. For TJ it was a poignant reminder that life goes on, even in the midst of a pandemic. It was also a reminder that as a provider, he had to do everything possible to save a dying business that was now on life support. Their only lifeline was selling carryout and delivery.
Instead of wallowing in self-pity, Brandon and TJ got to work. The large garage window facing Main Street became a perfect portal for carryout. They adapted the Verde menu to feature food items conducive to travel well. They also created new menu items, such as "Date Night Specials."
But for Verde to survive, Brandon and TJ would have to find another lifeline. Like thousands of other small businesses across America, they applied for federal loans and grants from the Small Business Association. In a word, the process was maddening. A small start up business from Louisville, Colorado does not exactly skip to the front of the line.
"The biggest stress from this experience has been navigating the process of government loans," said Brandon. "A lot of the applications are prioritized for big business." You can only imagine the frustration of TJ and Brandon when they learned that the Los Angles Lakers and Ruth's Chris Restaurants had somehow received money that was supposed to be for small businesses like Verde. "It's life or death," said Brandon at the time. "Our business depends on getting this loan."
For seven excruciating days, TJ and Brandon waited for an email, phone call, text — whatever — about their loan application. While they waited, something wonderful began to happen. When the Verde garage window rolled open, people came. First, it was a trickle — then a steady stream of hungry customers. The small revenue generated by carryout enabled them to re-hire some of the staff. For the young entrepreneurs, it was a wonderful lesson of the power of community. "We are so appreciative. It is comforting to know that we are all in this together," said TJ.
So what does the future look like for Verde? Like other restaurants in downtown Louisville, there are too many questions and too few answers. "When can we open? When we open, are we limited to 25% of total occupancy? Fifty percent?" asked TJ. "We are still waiting to hear from Governor Polis."
Sounds like a real blast owning a small business during a pandemic, huh?
With all of the uncertainty, TJ and Brandon are not fazed. They have a plan. "For the next three years, we are planning for a 50% drop in dining room revenue,' said Brandon. To help make up for the loss of revenue, they are looking at ways to get the Verde product beyond the four walls on Main Street. Brandon and TJ hope to get Verde's tasty chips and salsa, frozen burritos, and green chile in supermarkets across the metro area.
When word does come from the government, Brandon and TJ are ready to rock. Stringent cleaning standards in place before the word 'coronavirus' was ever uttered, are being modified to insure maximum safety for customers and employees. The mantra will now be: "Word Hard. Be Nice. Be Safe. Eat Burritos."
These are hard lessons for young entrepreneurs like TJ and Brandon. But they choose to view the COVID-19 days as a life lesson that will make them stronger business owners — and stronger men.
"This forced us out of our comfort zones. I believe that there will be a time in the future when we look back at and realize how strong, innovative, and compassionate we have become."
Oh, remember that pesky federal loan they were hoping to get? After seven long days, TJ and Brandon noticed a new deposit into the Verde bank account. The PPP loan had been approved. In the understatement of the century, TJ said: "It was a big sigh of relief."
When looking into the masked faces of Brandon and TJ, you see pain, but also something else. You can see a steely determination to beat the monster COVID-19.
Brandon and TJ realize that there will be more tough days ahead. While Brian Griese and Dave Aebischer had respectable careers, they never lived up to legends Elway and Roy. In the midst of this coronavirus winter, it is important for Brandon and TJ to remember this: in 1987, Joe Montana was replaced by a rookie from BYU named Steve Young ; and in 1952, Joe DiMaggio was replaced by a guy named Mickey Mantle.
Verde replaced a legend. When restaurants in Louisville open their doors, Brandon and TJ will get back to work creating a legend of their own.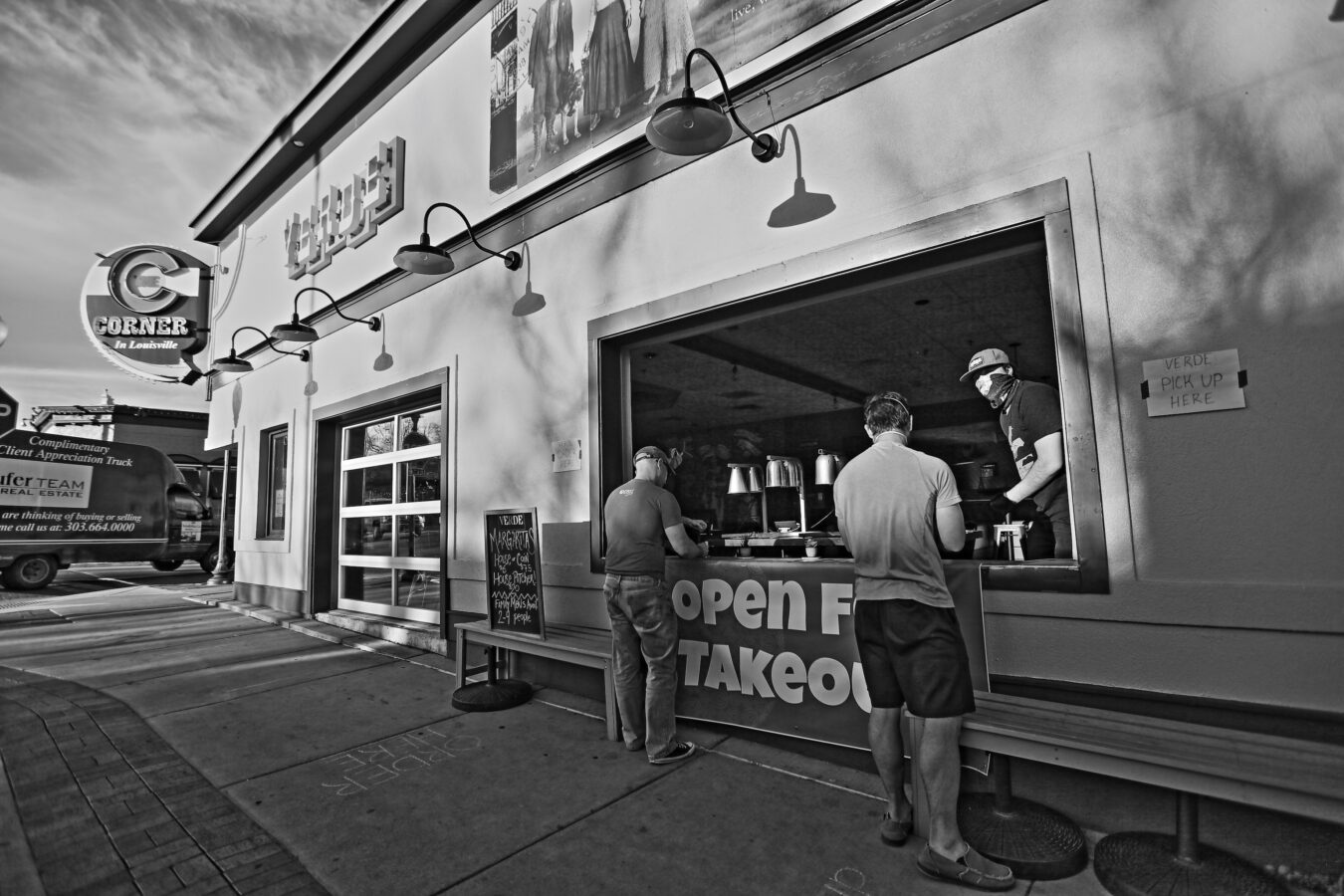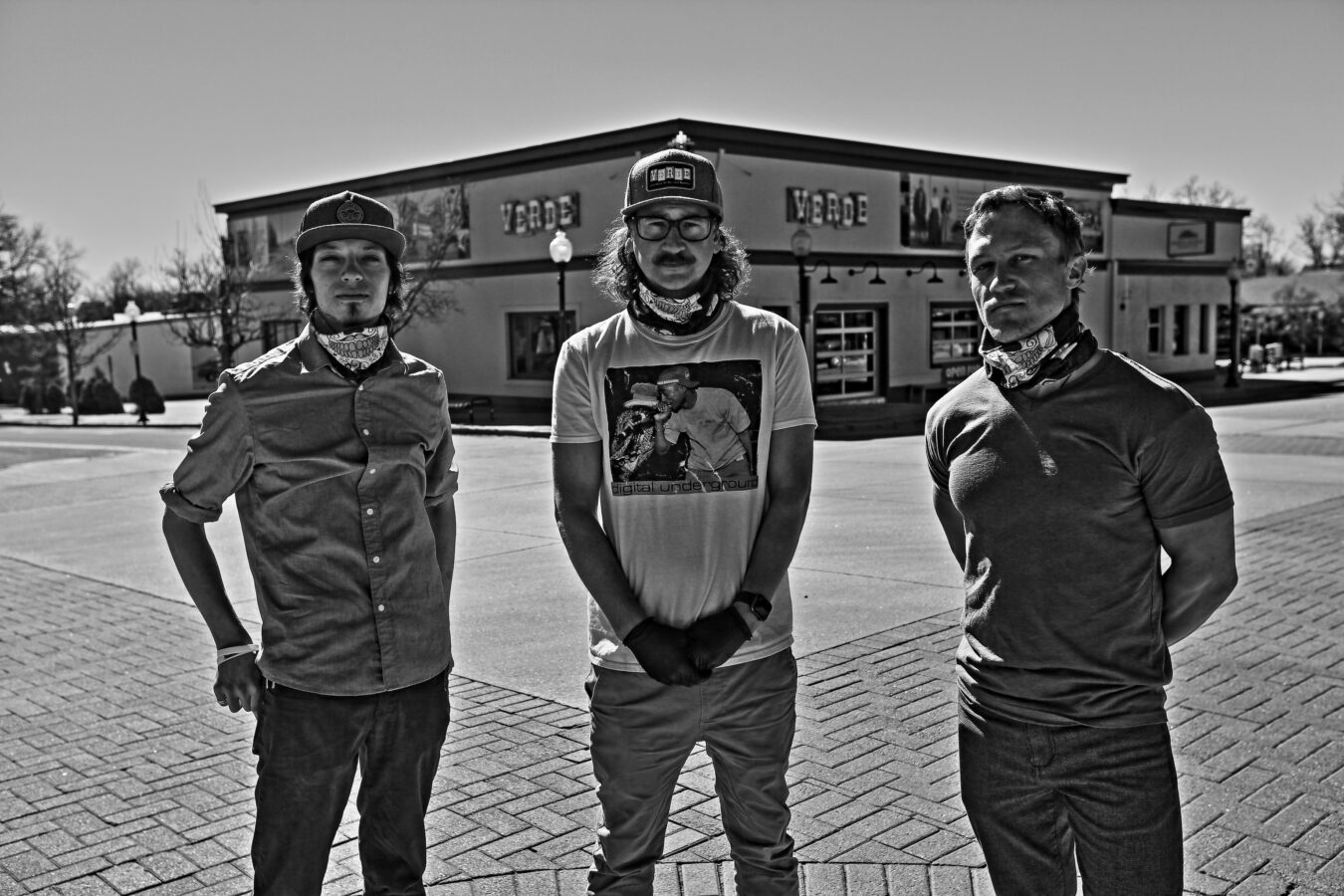 Please continue to support Verde and all of the downtown Louisville businesses. DowntownStrong### ReadytoServe###
VERDE
640 Main St.
(720) 746-9471
https://www.verdeeatdrink.com/louisville