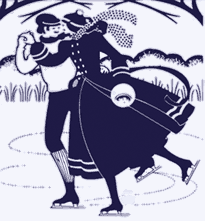 Located at the Steinbaugh Pavilion in Historic Downtown Louisville, WinterSkate is an old-fashioned ice skating rink complete with skate rental, concessions and traditional holiday music. Celebrating its thirteenth year as the original outdoor ice skating rink in the community, WinterSkate presents the perfect opportunity to enjoy the winter season in a beautiful small-town setting.
Dates: Thanksgiving Week 'til the end of February
Location: 824 Front Street in Historic Downtown Louisville. (directions)
Plenty of convenient, free parking!
Hours of Operation
Open Daily! *
Monday–Wednesday: 2 pm–7 pm**
Thursday: 2 pm–10 pm
Friday: 12 pm–10 pm
Saturday: 10 am–10 pm
Sunday: 10 am–8 pm
* Hours are subject to change due to inclement weather and/or management's discretion. When in doubt, please call WinterSkate before heading over to ensure that the rink is open: (303) 604-1010
** Early rink hours are available upon request for groups or parties who wish to skate between the hours of 10am–2pm Monday–Wednesday. Please contact Boulder Creek Events a minimum of one week in advance to request early admission: (303) 449-3137
Holiday Hours
Thanksgiving (Thurs. 11/23): 10 am–3 pm
Christmas Eve (Sun. 12/24): 10 am–3 pm
Christmas Day (Mon. 12/25): 12 pm–5 pm
New Year's Eve (Sun. 12/31): 10 am–8 pm
New Year's Day (Mon. 1/1): 12 pm–7 pm
Martin Luther King, Jr. Day (Mon. 1/15): 10 am–8 pm
President's Day (Mon. 2/19): 10 am–8 pm
School Vacation Hours
Thanksgiving Week/Winter Break
Monday–Wednesday: 10 am–9 pm
Thursday–Saturday: 10 am–10 pm
Sunday: 10 am–8 pm
Group rates and private parties available,
phone 303-449-3137.
Admission
Adults: $10.00
Kids (ages 4-12): $9.00
Children (ages 3 & under): $4.00
College Students and Military (with valid ID): $8.00
Senior Citizens (65+): $8.00
Bring your own skates — receive $5 off admission!
Additional info:
see www.bceproductions.com for more details, or call:
303-449-3137, or skate shack 303-604-1010