Trooper
Meet Trooper Midgley. This sweet seven year old Golden is a regular visitor at Staufer Team Real Estate.Owner Jill says Trooper loves pretty much everyone. Trooper misses his Main Street pal Cooper, but always looks forward to meeting new people and pooches.
Yadi
Meet Yadi Coen, an adorable 4.5 year old labrador/hound mix. Owner Matt says Yadi is looking forward to summer. He likes to stroll Downtown and cool off with some Sweet Cow ice cream. Favorite flavor? Vanilla. Say hi to Yadi and Matt when you see them!
Boomer
Meet Boomer Mallinger, Master Ball Dog and general lovable pooch. Boomer is a 5 year old Golden Doodle who recently moved to Downtown Louisville from Portland. Boomer is very interested in the local rabbit population, anything with peanut butter, and long walks in the open space. He is often accompanied by his pack-members Alisa, Andy, Aaron and Alec.
Baloo
Meet Baloo, this handsome year and a half old rescue spends his days hanging with the crew at Wildwood Guitars. Owner Devyn says Baloo loves his Downtown walks, sniffing the savory scents emanating from the restaurants and greeting all the folks that care to stop and give him some love. It's a good life.
Harlow
Meet Harlow, a 5 month old White Shepard. In addition to his new job as Waterloo mascot, Harlow is in charge of keeping an eye on Josh and Mel's twin boys, a role which apparently includes the occasional swiping of a pacifier. Good dog, Harlow.
Molly
Introducing the lovely Molly, a 9 year old soft coated Wheaten Terrier. Molly enjoys playing chase at the Community Dog Park and is a big fan of Waterloo leftovers. Who isn't? She is also an avid ear licker. If you see Molly and owner Jill, make sure to say hi!
Bader
Meet Bader Rushton/Sisk. This studious lady, a 3 year old Portuguese Water Dog, is named after the great Ruth Bader Ginsburg, and her best friend is, seriously, Sandra Dog O'Connor. Here's to strong women everywhere!
Cookie
Meet a boy named Cookie. Cookie Saia is a 7 month old American Heeler, Retriever, and German Shepherd mix. His favorite Downtown activity to date was strutting in the Labor Day Pet Parade. He had a great time and met all kinds of new two and four leg friends. If you see Cookie with his family; Sal, Celeste, Carol, and Nick, make sure to say hi.
Nova
Meet Nova, shop mascot for Thunderbird Barbers. The 10 year old Pug, seen here celebrating Halloween, has been coming to work with Sheri Garczynski since she was five months old. Nova enjoys all the love she gets from Thunderbird customers and her many Downtown friends. Stop in and say hi to Nova and Sheri!
Sofi
Meet Sofi Katzung, a 5 year old a whippet/chihuahua mix. This lovable rescue loves everyone and makes friends everywhere she goes. Her favorite Downtown things are joining owner Jennifer for an outdoor happy hour and enjoying lunch at Memory Square Park. Make sure to say hi to Jennifer and Sofi next time you see them around town!
Tru
Meet Tru, a loyal volunteer in the Children's storytime room two Tuesdays a month from 4:00 – 5:00 pm in the Louisville Library. Caretaker Ruth Green says the lovable Dane likes nothing better to stretch out with her head in a child's lap and be read to.
Lego
Meet Lego, official greeter at The Walnut Gallery. Owner Geoff, pictured here, says the young Doberman is a very sweet fellow. We could not agree more. Stop by the gallery and see the unique art and jewelry and say hello to these two fellas.
Jackson
Meet Jackson Spec, an adorable 10 year old Beagle who is brand new to Louisville. Jackson loves his new home, especially his walks on on the Coal Creek Trail and meeting all his fellow Downtown dogs at Community Park. You won't find Jackson doing much swimming at the Dog Park, but you can be sure he won't miss a smell. Make sure to say hi if you see Jackson and owner Sarah!
Ruby
Meet Ruby, an adorable 2 year old Shar pei / Red Heeler mix. Ms Marcum loves to walk Downtown and meet people, especially those who give her treats. And if she decides to reward you with a lick, watch out!
Meatball
Introducing Meatball Grathwohl, a four year old Italian Mastiff. Owners Jennifer and Patrick say a lot of people are intimidated by Meatball's size but he's actually, "the biggest wuss dog ever." This big softie is talented, with skills including leaping to pick apples off trees. Keep an eye out for Meatball at the Louisville Farmer's Market this summer, and be sure to say hi!
Willy
Meet Wilson Davenport — call him Willy. Wild Willy is a 7 month old Lab-German Shepard mix — might even have a bit of Golden in him 'cause he's so sweet. Willy D leaps a lot when he's happy, and on his first walk Downtown he leaped all the way down Main street. In addition to raising Wilson, his mom, Marilyn, is a member of the Board of the DBA and handles the PR and Street Faire sponsorship.
The Rogers-Maker Gang
Introducing, L – R, Louie, Birdy and Alfie. This trio resides on LaFarge with owners Chris Rogers and Terry Maker. Chris says they love the brisket at Lulu's (we're shocked) and, in a less expected culinary twist, they also enjoy licking the whipped cream off the top of dad's latte at Vic's. Any questions?
Blue
Meet Blue, a 10 year old Lab, Mastiff, and Rhodesian Ridgeback mix. Blue was a Spanish speaker when he was adopted from the Boulder Humane Society five years ago but is now fully bi-lingual. Caretakers Ciel and Paul say Blue has adapted beautifully to his new family, and his BlackPaw training allows him to go anywhere in polite society.
Tiger
Meet Tiger, one of the sweetest hounds to ever make the Downtown rounds. Tiger is a rescue dog whose name is inspired by his stylish striped coloring. He can be timid — owner Jeff says he was abused pre-rescue — but loves to be scratched behind the ears. Keep and eye out for Tiger and Jeff and make sure to say hi.
Mercury
Meet Mercury Frieswyk-Johnson. Call her Mercx. The adorable 5 month old Kelpie-Cattledog mix loves going to work Downtown at DAJ Design, smelling the smells, and once in a while finding that random dropped nugget of food. At lunch she often visits her mom, Michelle, at The Louisville Wellness Center. It's a good life.
Cher
Meet the lovely Cher Burgener, known around town, of course, simply as Cher. The 8 year old Weimeraner and Miniature Australian Shepard mix can often be found greeting clients, and occasionally her frenemy Jake, at N2Therapy on Main Street. You can also find Cher and her caretaker Julie visiting Vic's many a morning. Make sure to say hi!
Sam
Meet Sam Midgely. Sam is a 3 year old Golden that loves to play ball. He also loves to spin, and really gets going when he is showing off. Sam is very happy that Louie's Pet Supply moved in across from his Mom's office at Staufer Team Real Estate because he loves all the food and treats just a twirl away.
Bailey
Meet Bailey Caracciolo, a 10 years young Golden Doodle. Bailey loves living and playing in Downtown Louisville. A perfect day for the charming Ms B is a ball toss at the Community Park – while listening to her favorite band, Meat Loaf – followed by a trip to Bittersweet for a side of bacon with Uncle Gary.
Country Dog, City Dog
Meet Shiya, an adorable 6 month old English Cream Golden Retriever. Shiya can often be found Downtown at Old Friends or with her New Friends at Sweet Cow. When Wendy does not have her doing puppy chores on the ranch, Shiya spends her free time trying to catch flies, getting her feet muddy, eating, and chasing her tail. Don't tell Shiya there's nothing to do!
Hank
Introducing Hank, a one and half year old Standard Poodle. When Hank isn't at the dog park or running along the Coal Creek Trail you will find him on Main Street at Louie's Pet Supply. Hank is the official store greeter and will be more than happy to show you all of his favorite treats.
Punch
Introducing Punch Gingo, a too-cute-for-his-own-good 3 year old Terrier mix. Caretaker Nikki says Punch enjoys all aspects of Louisville, especially the dog parks, pet friendly events and, of course, the people.
Titan
Introducing the very handsome Titan Giammaria, a 3 year old Chesapeake Bay Retriever. Titan, true to his breed, loves water. A perfect day for Titan and owner Sarah is a trip and a dip at the Community Dog Park pond followed by a good meal. Speaking of good meals, keep an eye out for Titan at the Trailhead Wealth Management booth at the Taste of Louisville. Make sure to say hi!
Kihei
Meet Kihei S Mitchell, of the Louisville Mitchells. This adorable Jack Russell / Chihuahua mix has lived in Louisville since she was a pup and is still enjoying life at 14. When caretaker Terri was asked what Kihei likes, the answer was a simply wonderful, "everyone and everything."
Huey
What do you get when you cross a Basset with a Cattledog? In this case you get lucky. Introducing Huey Malone, a 55 lb bundle of joy who will eat, according to owner Genie, pretty much anything. In between meals, three year old Huey likes meeting humans and hounds around town and at Community Dog Park. What a good boy.
Ozzy
Meet Ozzy Autsch Davies, a 3-ish year old rescue pup. Owner Deb says Ozzy loves to play fetch but is not particularily fond of mail trucks. When young Ozzy gets a bit more acclimated to his new home maybe he can join mom at the
Lucky
Meet Lucky Lambrecht. Lucky is a six month old Border Collie mix rescued from the Boulder Humane Society. Like any youngster, Lucky loves running around and hanging out with his new family. After he settles in a bit, you may find Lucky helping out Laura at
Luna
Meet Luna, a one year old Husky mix. Luna spends her days greeting customers at on Front Street. Like most things in this charming shop, Luna is very sweet. She loves children, and adults, and would not turn down a pet or a belly rub if offered.
Angus
Introducing Angus, the Unauthorized Biography*. Angus hangs out in front of Vic's the occcasional weekday morning and is just the sweetest dog who gets many pets from his many human friends who also hang out at Vic's on weekday mornings.
Sophie
Meet Sophie Kerns, not to be confused with Sophie Fickbohm, although both are lovely ladies. Sophie K is a six year old of indeterminate heritage. She enjoys bounding, deer-like, through the tall grass in Louisville open spaces followed by a cool drink at , where she basks in attention and pets from her many friends. Ahhh, to be a Downtown Dog…
Cosmo
Meet Cosmo Schawel, a year and a half old Goldendoodle. Cosmo and his caretakers Camilia and Brandon moved to Louisville in June and are enjoying their new Downtown. Cosmo is especially fond of the dog park and the pets and love he gets from the local humans. Welcome to Louisville Cosmo!
Watson
Sometimes you gotta stop and smell the petunias. Meet Watson, a Westie cared for by Cindy and Rick Kron, of the Louisville Krons. When not taking ridiculously adorable pictures of Watson, Cindy and Rick lend their talents to the Louisville DBA as Treasurer and Secretary, respectively. Gotta love Louisville.
Vince
Meet Vince Tengler, a people-loving 3 year old rescue dog sporting some DNA from the land down under – maybe Cattle dog or Aussie Shepard. Vince finds the Miner and John Breaux statues especially fascinating on his daily Downtown walks. He does not, however, like balloons.
Ruby
Meet Ruby Cooley-Hoehing, the Found Underground Hound. Uh-huh. Ruby is a 4 year old Shiba Inu mix. Since we did not hear back by deadline about what Ruby likes about Downtown, we're going to make something up: Ruby loves the Crispy Calamari Salad at . But then, who doesn't.
Jimmy
Meet Jimmy Herring Hendrix Page. The 5 year old Shih Tzu mix, affectionately known as Bad Jimmy by his Main Street pals, tells us he is very happy to be in Louisville. The down home vibe suits his rock n' roll soul.
Cooper
Introducing Cooper, Director of Public Relations at , the stylish new shop at the corner of Main and South Streets. Proprietor Julie says Cooper is doing "an exemplary job." We have no doubt. Pay them a visit!
B.J. (and Barbara)
Perhaps you've seen these two pals around town. Barbara, the caretaker, and B.J., the caretakee. B.J. is an 8 year old half Maltese, half Westy who loves her Downtown walks. As well she should, having the best seat in the house perched comfortably in Barbara's walker. Next time you see Barbara and B.J. make sure to give them a big Louisville hello!
Cora
Meet Cora McClure. The lovely Golden recently celebrated her first birthday with drinks and dinner at Empire. Well, not exactly, but she does occasionally get Empire leftovers—lucky dog—followed by a good drink from her bowl. Cora likes hanging out at owner Justin's Downtown office and trips to Community Park to play with her pals. Make sure to say hi!
Tally
Meet Tally Valentine, a spry 14, yes, 14, year old who has lived her entire life in Louisville. Sweet Tally loves to stroll Downtown and spread good cheer to all the fellow canines and humans she meets. What a good dog.
Jax
Meet Jax, a five month old English retriever who recently got the coveted job of Mascot for Lulu's and Waterloo. DD sources would neither confirm nor deny the rumor that Jax' contract stipulates payment in Texas slushies, brisket and jalepeno poppers.
Bentley
The ladies swoon when this handsome fellow strolls the Downtown streets. Meet Bentley, an 18 month old Rottweiler/Bernese Mountain Dog mix. This personable pooch can often be found in front of . Make sure to say hi to Bentley and owner Deborah if you see them!
Lunar
Meet Lunar, official Shop Dog at . The spunky Pug puppy is learning to swim and find his way around Downtown during his breaks. Stop by the Salon and say hi to Lunar. He loves visitors.
Edgar
Meet Edgar, greeter and unofficial therapy dog at N2Physical Therapy. The Great Dane puppy is known around town for his gentleness with children and his love of a good butt scratch. You can often find Edgar hanging out at Vics Espresso. Make sure to say hello—butt scratch optional.
Bonnie
"I hear static at the edge of the universe." Meet Bonnie, a brand new, and terribly cute, addition to Historic Downtown. Owner Lexi says Ms Raitt is a Husky mix (looks like some Shepard to me) adopted from the Humane Society. She really enjoys sniffing around her new home town and, of course, loves a scratch behind her copious ears.
Zoey
Meet Zoey, a wonderful mix of Australian Shepard and Newfoundland. Zoey spends her days at and, like so many dogs, enjoys strolling Downtown and noshing on Bank biscuits. Owner John says Zoey is thrilled to be DDofM and will offer her paw to anyone who would like to congratulate her.
Tully
Meet Tully. Tully is a Chinook, which owner Matt Laughlin says is a rare American breed. Being rare has not made Tully a snob, however, as he is more than happy to hang with the hoi polloi in Historic Downtown. When Downtown, Tully enjoys his visits to , where he gets lots of attention from Judy and team. But then who wouldn't?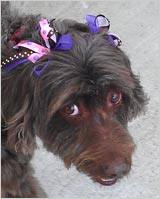 Lady
OK, tell me she's not adorable. We are pleased to introduce, from Louisville, Colorado, her Ladyship, Lady Keany. Lady is a four year old rescue pooch possibly featuring some Potuguese Water Dog DNA. Owners Jay and Karen say Lady loves to come Downtown 'cause she gets so much attention. Go figure.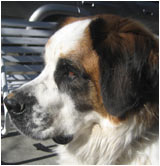 Lola
Meet Lola, a four year old Saint Bernard. Mucho mellow Lola can often be found lounging in front of after a good workout pulling owner Kevin on their bike trailer. Make sure to say hi to Lola and Kevin when you see them around town!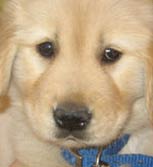 Daisy
Meet Daisy. The eight month old Golden was a gift from Ronda Grassi and Nancy Welch to their son David, but will soon be spending her days hanging with Nancy at —as soon as she proves she can be responsible around classy-cool accessories and furnishings.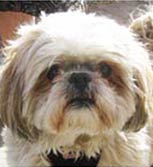 Jesse
Meet Jesse Hohnholt, a 5 year old Shih Tzu who thinks he's a Rottweiler, according to owner Margie. Jesse hangs out at Margie's office in the Chamber building and looks forward to his Downtown strolls. Say hi if you see Jesse and Margie!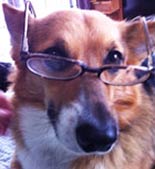 Olive
Meet Olive, a 5 year old Corgie who loves a good party! The more people the better. The studious Olive enjoys reading the Sunday Times at The Loco Yo and taking walks on Louisville's many trails.
Sophie
Meet Sophie Fickbohm, a 5 year old Blue Merle Collie. Considered by many to be Downtown's most elegant canine, Sophie enjoys strolling Main and Front Streets because of the absence of paparazzi, who can be such a bother when in LA.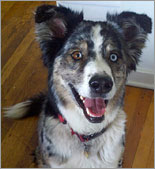 Chauncey
Meet Chauncey Billups, a two year old Australian Shepard mix. Chauncey and owner Rob can be found hanging out Downtown after a good run on the Coal Creek trail or bocce ball fetching session at the Caranci Pavillion.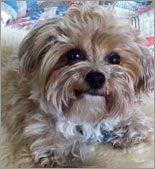 Henry
Meet Henry the "Morkie"—yeah, Morkie: half Maltese and half Yorkie. 3 year old Henry can be found charming customers at Main Street Trading Company, a cool store featuring kitschy vintage home goods located in the lower level of the Marketplace Building. Owner Holly Koehn says please friend Henry on Facebook.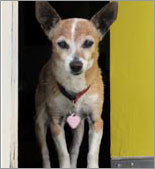 Shakey Ray
Shakey Ray shot to local fame as the skateboarding star of the Shop Louisville campaign in 2005. Shakey, now a spy 17, lives a quiet life on LaFarge with her caretakers, robot maker Chris Rogers fabulous artist, Terry Maker.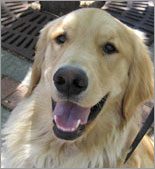 August
Meet August, an 11 month old Golden Retriever. When caretaker Stacey was asked what August likes best about Historic Downtown, the answer was immediate and emphatic, "People!"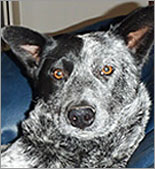 Pirate
Meet Pirate Hubbard-Hughes. The eight month old 3/4 Australian Cattle Dog and 1/4 Border Collie mix thoroughly enjoys his walks Downtown with caretaker Annie and big brother Rusty. Pirate especially enjoys his visits with Kara at Ville De Luxe.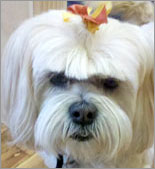 Maggie Mae
Meet stylish Lhasa Apso Maggie Mae. Maggie is, well, lets just say, "of a certain age," kind of like the Maggie Mae immortalized by Rod Stewart. Maggie can often be found greeting customers at the equally stylish By Chance – located at 920 Main Street. Stop by and say hello!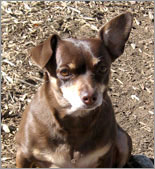 Coco
You talkin' to me? Meet Chihuahua-mix Coco – affectionately known to her 900 block neighbors as Coco Loco. Coco guards the north entrance to Historic Downtown from her turf at Main and South Streets. Make sure to say hola next time you pass by!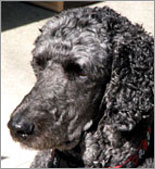 CiCi
The lovely standard Poodle pictured above is CiCi, the official greeter and mascot at and 940 Main Steet. Caretaker Tom Parsons rescued CiCi from a bad news breeder eight years ago. Stop in and say hello to Cici, Tom and Vickey.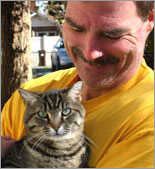 Bogie
Celebrate Animal of the Month Diversity! Meet Bogie, an eight year old female rescued from the mean streets of Lakewood by owner Scott Devereaux. Scott and Bogie can be found enjoying the 900 block of LaFarge. Make sure to say hi!
Dexter
Meet Dexter Angell, a 1.5 year old Dacshund. The very stylish Dexter – takes after his caretaker Shelley – works part time as a Ambassador and Greeter at the Louisville Chamber of Commerce.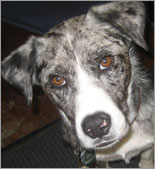 Jake
Jake is a one year old rescue dog who spends his days at . Jake often visits the dog park at lunch and works on his off-leash training in the evenings.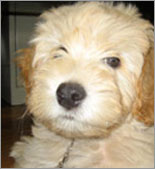 Dudley
Is it real? Yes it is. Meet Dudley. Dudley is a 10 month old Woodle – that's half Poodle half Wheaten Terrier. Dudley can be found most days hanging out with Janet and Kim at Creative Framing and Art Gallery.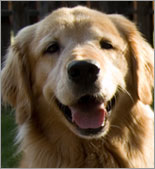 Bella
Meet lifelong Louisville resident Bella Davenport. The 8 year old Golden can often be found in front of In Season Local Market or hanging around Sweet Cow waiting for someone to drop their ice cream.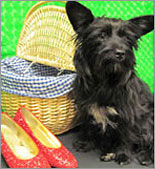 Chica
Meet Chica, winner of the coveted role of Toto in the Art Underground's upcoming presentation of Wizard of Oz. Chica, like the original Toto, is a 2 year old Cairn Terrier. Chica is a method actor who promises to bring tremendous focus and passion to the role.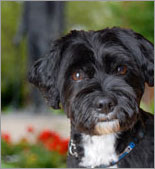 Shilo
Rescue dog Shilo Weise, a 23 lb. Shitz-Poo, loves her new home. Her favorite things about Historic Downtown are: Italian ice, the water bowl outside of Vics, and barking at buses.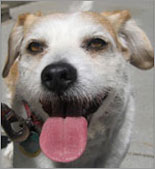 Shorty
Meet Shorty Janeczko. Shorty is a happy seven year old rescue dog of indeterminate breed owned by the stylish Chris Janeczko. Say hello to Shorty and Chris next time you see them Downtown!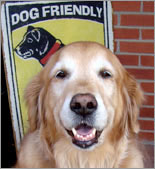 Mary Jane
Mary Jane is a 7 year old Golden who spends most of her days at Old Friends, 706 Front Street, looking forward to pets from her human friends and kind strangers.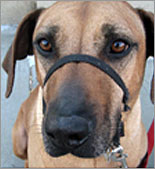 Lennox
Meet Lennox, a sveldt four year old Rhodesian Ridgeback. Caretakers Andrew and Joan Langford say that Lennox enjoys the dog park and treats at the bank when he comes Downtown.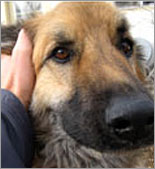 Shiloh
If you find yourself at South and Jefferson, look in the yard on the NW corner to see if Shiloh is available. The big Shepherd mix is a really sweet pooch and loves to be scratched behind the ears.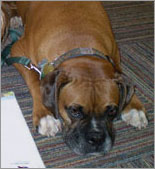 Bill
Bill, owned by Chrissy Messick, is a certified therapy dog and part of the library's Read to Rover program. Bill visits the LPL so that children who may not be comfortable reading out loud in class or to their parents can have an accepting and nonjudgmental audience. We believe there is no truth to the rumor that Bill's favorite book is The Cat in the Hat.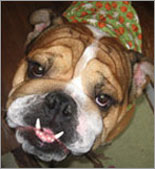 Fiddy
Whattup Fiddy? Fiddy Cent, pictured above, is the second Bulldog from the 900 block of Main to be DDotM. Is this a trend? Fiddy is a year and a half old and belongs to Kara Reese of Vie Vie Luxe.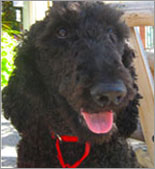 Gigi
Gigi, pictured above, is a two year old Standard Poodle. Gigi spends a lot of time Downtown and, according to owner Karen Anderson, is very fond of Bob, Downtown's ultra cool alpha poodle pictured below. Looks like a classic, "Nice Girl falls for Bad Boy" scenario to us.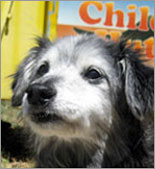 Dante
Meet Main Street's old man. Dante is 16 and at the tail end of a great life. He spends his days mostly snoozing at the Chili Hut, being loved by owner Kate and his neighbors. Come visit Kate, buy some chilis – the new batch of Hatch is in! – and say hi to Dante – if he is awake.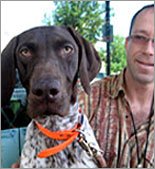 Escher
Named after the great artist, Escher is the first lady to be DDotM. (We're not sure how that happened?!) The spirited 10 month old German Shorthair Pointer and caretaker Jason often spend quality time at Cafe de Paris. Make sure to say hi!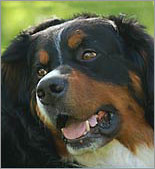 Koda
Meet the Big Dog. Koda is a three year old, 90 lb, Bernese mountain dog. You can usually find Koda and caretaker George enjoying coffee at Vic's early mornings. Say hi!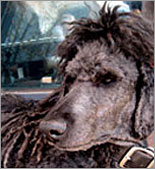 Bob
Talented. Charasmatic. Cool. We're talking Bob here. Bob is a 7 year old Standard Poodle who can, among his many talents, run up walls. Don't believe me? Next time you see Bob and his caretaker Vic on Main Street, ask for a demo.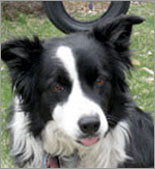 Johnny
Say hello to Johnny Tussey. Johnny is an 11 year old Border Collie who spends most of his weekdays hanging out in the beautiful front yard at 921 Main Street. It's a good life.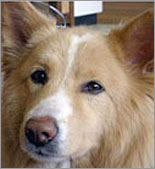 Louie
Introducing Louie, a 7 year old Collie /Australian Shepard mix. You can see Louie, clearly, at Rick's Eyeworks 615 Main Street.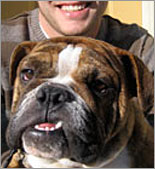 Benson
Introducing Benson, an 8 month old pure bred Bulldog. Benson can be seen strolling Downtown with owner Jay Turner. What a handsome boy, and Jay is ok too.