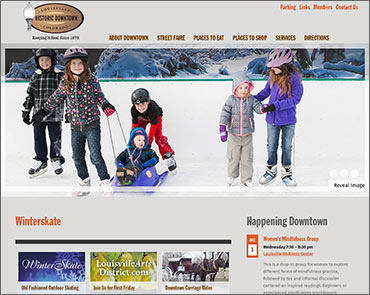 Ho-ho-ho!
Look what's new from the DBA
Check out your newly designed website at www.downtownlouisvilleco.com. It's been five years since we last updated the site and it was time to integrate new technology and adapt to current user trends. We also wanted to more accurately reflect the dynamic community we live, work and play in. The new site focuses on what makes our community so special: the people. We feature retailers, restaurants and Downtown activities with photos by DBA member photographers MaryLynn Gillaspie and Erin Cox.

So tell us what you think about our new look. And here is wishing you the happiest of holidays surrounded by the joy and warmth of family, friends and beloved pets.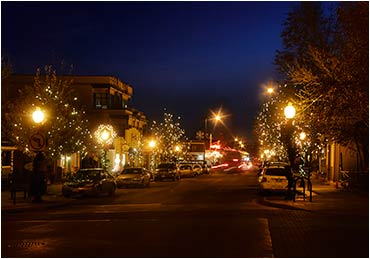 Art Walk takes place Saturday, December 6
Enjoy the festivities and stroll the streets under the beautiful holiday lights. Art Walk is brought to you by the Louisville Arts District. Check their website for complete details. Holiday Lights are brought to you by the Downtown Business Association. Photo by MaryLynn Gillaspie.
Congratulations
Trailhead Management
Financial advisors Bryan Pieper and Greg Stingari have been awarded the 2014 Five Star Wealth Manager Award. Bryan and Greg are named among other top advisors in the state in the November 2014 issues of 5280 Magazine and ColoradoBiz Magazine. Five Star Professional is an independent third-party research firm, who received over 12,000 nominations among all wealth managers in the Denver area from peers or firms and evaluated the nominees based on 10 objective criteria. Bryan and Greg were among 528 wealth managers who were named 2014 Five Star Wealth Managers. So if you need financial advice... it's a no-brainer.
Lady of Guadalupe Day Dance Performance
Bella Frida
924 Main St.
December 12
1:00 pm
In honor of Our Lady of Guadalupe, the traditional Mexican dance group, Matachines Guadalupanos will perform in front of the store with beautiful costumes and musicians. You won't want to miss this heartfelt and colorful performance.
Colorado Gives Day
24 Hours to Give Where You Live
December 9
Support our local nonprofits like the Art Underground, by donating anytime throughout the day at ColoradoGives.org. Presented by Community First Foundation and FirstBank, Colorado Gives Day raised a record breaking 20.9 million last year. The website features every nonprofit participating in the event so you can donate to your favorite organization. There will also be a link on the Art Underground home page www.artunder.org.
Holiday Savings Passport Program Shop Louisville And Save
November 21 – December 31
Once again the retailers of Downtown Louisville and the Louisville Arts District are offering the Passport program, a great way to save 10 – 50 percent on wonderful merchandise and unique gifts for the holidays. (and have a good lunch or dinner while your shopping). Pick up a brochure at any downtown store or check the ads in the Daily Camera and Hometown Weekly. The Passport program includes boutiques, gift shops, galleries, and restaurants. So shop local for all your holiday needs.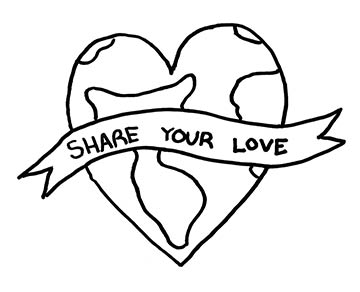 Share The Love
Community Service Day
Louisville Middle School
December 7
10:00 am – 4:00 pm
Bring the whole family to join in this day of community service where you can tie knot blankets for babies in the NICU, make holiday cards and ornaments for the elderly, assemble hygiene care packages for the homeless and much more. Drop by anytime to help or make a donation. Bring in candy for soldiers or new or used books for kids. The event is hosted by Destination Imagination's Team FAAST. For more information email changintheworld101@gmail.com
Public Library Offerings
951 Main St.
As always check the library website for a full schedule of events. www.louisville-library.org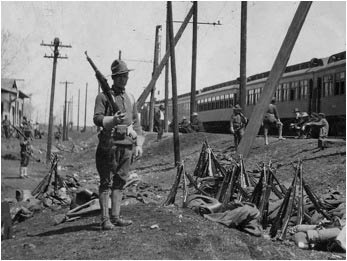 Keeping the Peace In Louisville 1914 – 1915
Library Meeting Room
December 4
12:00 – 1:00 pm
Presented by Historic Museum Coordinator Bridget Bacon, the program focuses on the period of May 1914 to January 1915 when federal troops from the 12th Cavalry in Fort Robinson, Nebraska, were stationed in Louisville to maintain order following the coal strike wars of April 1914. What was this like for the soldiers... and for the residents? Attendees are welcome to bring their lunches.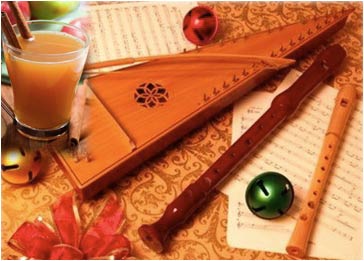 Holiday Open House &
Music Performance by Tutti Quintet
Library Lobby
December 5
3:00 – 4:00 pm
Stop by before the Parade of Lights for the annual Holiday Open House and listen to recorder group Tutti Quintet as they perform their special variety of music for the holidays.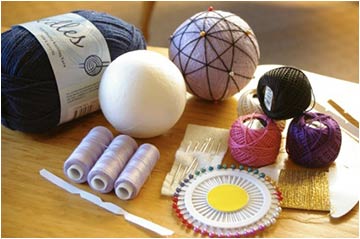 Temari Ball Ornaments Workshop
Library Project Room, 2nd floor
December 6
1:00 – 4:00 pm
Temari Balls originated in Japan as hand-embroidered friendship balls made to be given away as gifts. The 3-4 inch diameter balls are made from scratch, then decorated with colorful and sparkly yarns and beads. These balls are perfect holiday tree ornaments, decorations, and friendship gifts. No experience or preparation needed. The workshop will be led by local fiber artist Pat Martinek. This is a kickoff event for the Library's new Makerspace programming. Please pre-register. Space is limited to 15 participants. $10 materials fee per person.
Folded Paper Gift Boxes Workshop
Library Project Room
December 13
10:00 am – 12:30 pm
This is a drop-in workshop for ages 10 and up. Materials will be provided.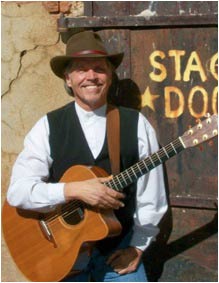 Celtic Carols with Jerry Barlow
Library Meeting Room
December 14
2:30 – 3:30 pm
Jerry is a songwriter and Celtic fingerstyle guitarist who has been heard on NPR and PBS. This concert is free and open to the public.