Happy Mother's Day, Happy Graduation, Happy Cinco de Mayo, and we'd like to say Happy Spring! Even though its still snowing, rest assured that soon the streets will be crowded with Happy shoppers and Happy hungry people on the patios and decks, melting away our Winter Blues. We love it Downtown!
First Friday Art Walk
May 3
6 – 9 pm
Lots going on for this month's Art Walk. Dana V. Music will be featuring Streetside Music on various street corners and continuing all summer. By Chance will have Mother's Day specials with a flash-sale every hour and a free Trollbeads bracelet with the purchase of an upgraded clasp. Not to mention opening receptions for various artists throughout the night at all the different galleries. Check out the website for more on featured artists and various activities.
Bella Frida
Cinco de Mayo Celebration
901 Main St.
May 3
6 – 9 pm
Featuring the beautiful folk art of Mexico and colorful hand-embroidered clothing, Bella Frida will celebrate Cinco de Mayo with a special performance by the Matachines Guadalupanos Mexican dance group. Enjoy this unique opportunity to see traditional dance, complete with drummers and festive costumes. Also featuring the Mexican-inspired work of Boulder jeweler Leigh Palmer.
The Art Underground
Guardian Naming Workshop
901 Front St.
May 8
6 – 7:30 pm
If you're one of the 69% of families who haven't yet named legal guardians for your children, attend this informative workshop led by local attorney Wendi Temkin. Wendi will guide you through a series of exercises to help you select the best people to name as legal guardians and discuss other key aspects of estate planning. Suggested donation is $20 per family to benefit The Art Underground. Complimentary child care provided for children between the ages of 2 and 11. Advanced registration required at http://tau-workshop-eac2.eventbrite.com/#.
Sangha Studios
Grand Opening Celebration
917 Front St.
May 18
2 pm
The Ribbon Cutting starts at 2 pm and then comes the real fun with music, food and a silent auction. The Studio announces that it now has spin bikes for Velo Yoga and is raising money to purchase energy recycling technology. Don't miss this great day of celebration.
Also join Sangha Studios on May 11 from 6 pm to midnight, for a special Fashion Show as models showcase clothes from Tristan Christopher utilizing aerial hammocks, yoga mats and poles. Afterwards there will be dancing, holistic healers, massage therapy and more. Admission is free.
Louisville Wellness Center
Skin Health: Vitamin D/Sunscreen /Skin Cancer Prevention
921 Main St.
May 16
7 – 8:30 pm
Skin cancer is the most common cancer in the U.S. and has increased by 2% each year from 2000 – 2009 despite significant use of sunscreens. Research also shows that sunscreens can actually increase skin cancer and block Vitamin D absorption. Join Dr. Cheri King for an in depth talk about balancing sunscreen use, prevention of skin cancer and production of Vitamin D. Suggested donation of $10.
Yoga Junction
Empathetic Parenting with
Sanam Pejuhesh
908 Main St.
May 22 – June 12
7 – 8 pm
Join child psychotherapist Sanam Pejuhesh for a 4-part parenting series in which she will teach ways to support children's emotional development, understand their behavior in new ways and stay regulated during those difficult moments. This workshop will help you deepen your relationship to your child by drawing on your strengths as a parent. Each class will be ninety-minutes with a teaching piece, experiential exercises and time for questions, sharing and support. Also offering Beginners Intensive starting May 1, Make your Own Mala on May 4 and Yoga for Runners on May 19 plus many more classes. Check out the website for full details www.louisvilleyogajunction.com/.
Programs at the Library
Louisville Public Library
951 Main St.
As always check the website for complete details. www.louisville-library.org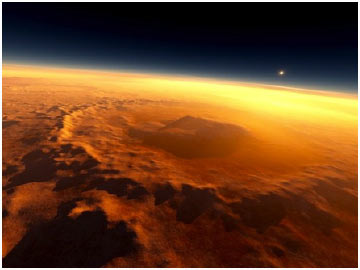 Beyond Mars:
NASA'S Amazing Discoveries in the Outer Solar System
Library Meeting Room
May 4
10:30 am – Noon
Rich Kagawa, an aerospace mechanical engineer with Sierra Nevada Corporation and a NASA-JPL Solar System Ambassador, will present exciting information about the amazing robotic missions to Mars that are on NASA's drawing board. Learn about a world that may have more water than Earth; a world with enormous geysers of water; and a world that resembles Earth billions of years ago. You'll also learn about the Voyager spacecraft and participate in a 'Mission Control' simulation game.
Lightning Safety: Old Myths & New Realities
Library Meeting Room
May 6
7 – 8:30 pm
Richard Kithil, Founder and CEO of the National Lightning Safety Institute, located in Louisville, will present valuable information including:
Introduction to Lightning Behavior & Phenomenology
Lightning Costs & Losses in Recent Time & Lightning in History
Lightning Safety for People, Structures, and Equipment
Q & A Session
What Keeps You Up At Night: Estate Planning
Library Meeting Room
May 7
6 – 8 pm
Presented by local estate attorney John Gstalder of the Louisville Law Group, the seminar will address:
What you should know about estate planning
Protecting your estate from taxes
Will your family be secure if something happens to you?
How to create a legacy for your children
Providing for a charity when you are gone
What your survivors will need to know about your estate and legacy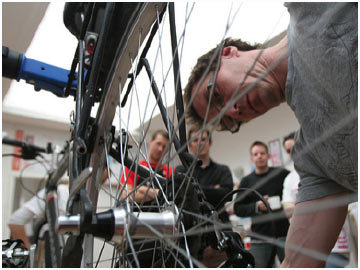 Bike Maintenance Workshop and Bike Drive
Library Meeting Room
May 18
10:30 am – 12:30 pm
Learn the fundamentals of bike maintenance and how you can upgrade your bike for comfort and efficiency. This workshop is for pre-teens and adults who want to make sure their bikes are in working order all year round without having to bring it to a repair shop for a tune-up. This bike workshop is FREE, but will be paired with a bike drive.
The Louisville Public Library and host Community Cycles are asking you to bring in any old bikes or bike parts, no matter the condition. The used bikes will be used for training volunteers on how to fix bikes, build new bikes, and rolling bike clinics that help fix bikes in low income neighborhoods. The bike drive component of this program ensures that this maintenance program is free for all who attend! Get a tax write-off instead of trying to sell your used bikes!
Pathways to Parenting Success Series: The Teenage Brain
Library Meeting Room
May 23
6:30 – 8 pm
Learn about the latest research on teen brain development and gain a better understanding of your child's mind. Presented by Boulder Psychological Services.
Teen Movie Night
Library Meeting Room
May 24
6 – 8 pm
Watch Beautiful Creatures (PG-13) and enjoy some popcorn with your friends!
Innovative Job Search Strategies
Library Meeting Room
May 29
6:30 – 8 pm
Searching for a new job is hard work. In fact, it can be the toughest job you'll ever have. To stand head and shoulders above the rest of the job-seeking crowd, it's important to lay out an effective job search strategy. This presentation, facilitated by Leah McNally Specialties, will focus on:
Implementing an Effective Job Search Strategy
Creating Your Personal Brand
Leveraging Your Network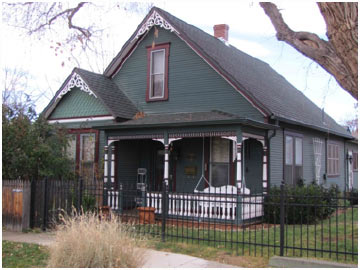 Louisville Historical Museum
Louisville's Jefferson Place Neighborhood:
Its History and Architecture
Library Meeting Room
May 30
7 pm
The firm of Avenue L Architects has completed a historical and architectural survey of Jefferson Place, which is Louisville's oldest residential neighborhood, assisted by the Louisville Historical Museum. At this public program, they will present the survey results and possible historic district eligibility, and discuss architectural styles and how to identify them yourself. You'll also learn about some of the colorful characters who called Jefferson Place home: bootleggers, woodcarvers, a band leader, a female blacksmith from England, many prominent citizens, as well as miners, miners, and more miners!