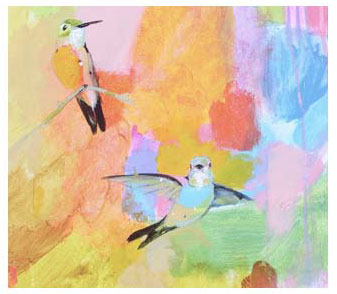 First Friday Art Walk March 2
Ahh, March—statistically Colorado's snowiest month, but also the first whisper of Spring! Celebrate renewal and the collective creative spirit of Historic Downtown. Join us Friday night for the first First Friday Art Walk of 2012. Participants include:
This sizzling gallery is kicking off their 2012 schedule with four fabulous artists: master sculptor, Alexei Kazantsev, master painter, Rebecca Tolle, the whimsical illustrator/painter, Mona Simon, and our revolutionary artist-in-residence, Monika Edgar. Bring a friend, meet the artists, and indulge in savory appetizers and libations while you enjoy live music and lively conversation!
916 Main Street 303-664-0043.
Creations Gallery of Fine Art and Gifts
5:30 pm – 9:00 pm
This unique corner gallery features the work of more than 40 artists. Join us Friday for a reception for nationally acclaimed pastel artist Colleen Hoerner. Acoustic music by Louisville's own Joan Huntsberry and Andy Langford. 303-862-6866.
6:00 pm – 9:00 pm
Art Underground
We're lucky to have Tony creating in Louisville. You can also see his work in Louisville wannabes like Aspen and Cherry Creek. (: Meet Anthony and see his new work – like the beautiful piece at the top of this page.
917 Front Street 303-408-5533.
Three Woman Show
6:00 pm – 9:00 pm
and Saturday, March 10 5:00 pm – 8:00 pm
Is Boulder County's greatest barista also an artist? Yes she is. Jennifer Hirshhorn, Julie Barbera, Jennifer Blanchard.
908 Main Street, Suite 104
Fork. A social Lab.
639 Main St.
March 24 Saturday, 10:00 am – 6:00 pm
March 25 Sunday, 11:00 am – 5:00 pm
Spring! A great time to get out of the house and into the warmth of supporting local artisans while shopping for yourself and gifts. We'll have lavender lemonade to keep you refreshed while you shop.
720-226-5291
FORK SPECIAL CHEF EVENT FEATURING Top Chef Season 5 Winner, Chef Hosea Rosenberg
March 31
7:00 pm
The Louisville Center for the Arts
A five course dining extravaganza featuring the creative culinary work of Chef Hosea, with optional wine pairings from the ultra-hip Denver urban winery, INFINITE MONKEY THEOREM and winemaker, Ben Parsons. Chef Hosea will introduce each course along with his culinary point of view and inspirations. Ben will introduce each wine, while explaining his innovative approach to winemaking. View the menu and wine pairings on our website.
720-226-5291
Chef Deb Traylor's Cooking Classes
Irish Pub Fare
1130 Pine St.
Monday, March 12
5:30 – 7:00 pm
In celebration of St. Patrick's Day, be prepared with some festive dishes certain to tame your wild bunch! The infamous Irish Lamb Stew along with a miniature Sheppard's Pie and Irish Soda Bread will kick off your evening. The Irish love their potatoes and especially their Colcannon. There's nothing like ending the evening with a Guinness Stout Ice Cream Float along with Stout Chocolate Cake. You will swear you're in Ireland! Cost is $20. Advanced registration is required.
Registration: Barbara@mountainhighappliance.com or 303-951-0524.
Chef Deb Traylor's Cooking Classes
Casseroles & Comfort Food
1130 Pine St.
Tuesday, March 20
5:30 – 7:00 pm
Whether it's preparing ahead for the freezer or creatively "throwing together" a last minute meal, the tummy loves a tasty casserole like the King Ranch Chicken Casserole or the Ham and Leek Meat Pie. One-Dish Pinto Bean and Sweet Potato Chili is perfect for après-ski. Learn how to make Stuffed Polenta with Bolognese and how to create the perfect Potato Gratin to add to any meal. Don't forget the dessert – Sticky Toffee Pudding with Bourbon Whipped Cream. Cost is $20. Advanced registration is required.
Registration: Barbara@mountainhighappliance.com or 303-951-0524.
Louisville Historical Museum
Brown Bag: Finding Romance in Louisville... Then and Now
Louisville Public Library Meeting Room
Thursday, March 1
12:00 noon – 1:00 pm
Sean Moynihan, who has written about Louisville's Bachelor Club for The Louisville Historian, will talk about how Louisville residents found their mates. Bring your lunch as well as your own family stories about people found romance long ago and how they do so today.
303-665-9048
Louisville Library Events
CU at the Louisville Public Library
Extrasolar Planets: First Views of Alien Worlds
Tuesday, March 13
7:00 pm
Join Kevin France, research associate from CU-Boulder's Center for Astrophysics and Space Astronomy, as he describes the explosion of discovery of extrasolar planets, from the first planet discovered orbiting another star in 1995 to the 1,000-plus extrasolar planets known today. He will discuss the use of modern telescopes to determine size, composition, and temperature, and he will outline current extrasolar planet research and what we can hope to discover in the next decade about Earth-like planets around stars.
303-335-4849