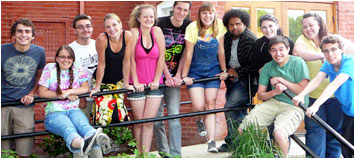 Dinner and a Play
The kids are acting up again but this time you don't have to do anything but sit back, relax and enjoy it. Two summer plays put on by these talented young actors will keep you entertained, especially if you combine it with a fabulous dining experience at one of Downtown's nearby restaurants.
Munch on some great food and then check out the munchkins at Art Underground's production of The Wizard of Oz at Louisville Middle School, July 15 – 24. Call for special deals on blocks of 10 or more tickets 720-879-2290. Check out showtimes and more information at www.theartunderground.org.
Center Stage Theatre Company will present the hit musical, 25th Annual Putnam County Spelling Bee (the cast is pictured above) at the Louisville Arts Center, July 28 – August 14. Boulder theater critic Mark Collins called it "one of the six shows or festivals for local audiences to keep an eye on in the coming weeks." Ticket price is $12 – $14. Get show times and more information at www.centerstagetheatercompany.org or call Jeanie Balch at 720-320-6692.
First Friday Art Walk Tonight
July 1
6 – 9 pm
Art-browsing, great food and summerly activities once again flood the streets of Downtown Louisville. Enjoy the events at Art Underground, Anthony Grant Studios, Creative Framing and Art, Studio Monika and grab a bite at one of the many participating Downtown cafes and restaurants.
Creative Framing and Art Gallery
July 1
6 – 8 pm
The Gallery will present a new show featuring the work of four fabulous artists. Painters Ana Maria Botero, Janice Larson, Linda Armantrout and stone sculptor Collen Nyanhongo will be on hand to discuss their work and techniques. Enjoy music, hors-d'oeuvres and the company of fellow art lovers.
Louisville Art Association
20th National Juried Photography Show
July 2 – July 10
Louisville Center for the Arts
Ninety-two images from photographers throughout the United States will be on display at this beautiful and unique show. Opening reception is July 2 from 7 – 9 pm with food and music. A Wine and Cheese reception will be held July 8 from 5 – 7 pm. More information at www.louisvilleart.org.
Paint the Town Purple
July 8
All day and evening
In preparation for Relay for Life, a fundraiser for the American Cancer Society on August 5, Downtown Louisville will participate in Painting the Town Purple, a tribute to anyone affected by cancer. Display a big Purple Ribbon on July 8 and help light up Downtown in memory of a cancer victim with a luminary. Luminaries will be set up all around the area and are on sale at the Great Western Bank on Main Street 303-664-0444.
Buy your Purple Ribbon from Lynn Wooton at 720-524-5402. Learn more at www.relayforlife.org/eastboulderco.
Summer Concerts in the Park
July 14 and July 21
7 – 8:30 pm
Louisville Community Park
FREE
Start the weekend on Thursday nights! Pack a picnic and bring the entire family to the last two concerts in the Park for the year. Graze and Groove to the bands!

July 14 – She Groovez
July 21 – Finnders and Youngberg

LCC events are sponsored by the Scientific and Cultural Facilities District.
Mountain High Appliance
Summer Series: The Primer for Farm to Table Cooking
July 21
6 – 7 pm
Chef Deb presents, "Midsummer's Night Dream – Dining Alfresco with Little to No Cooking," All classes are $15 each or $35 for all three if paid in advance. Come share Chef Deb's, natural enthusiasm for the farm and farmers, their unique produce and staples, and how each new recipe adds to your health and lifestyle! RSVP to Barbara@mountainhighappliance.com
Yoga in the Park
July 13 – August 3
Memory Square Park
7 – 8 pm
Join the Yoga Junction Wednesday evenings for their relaxing, after work yoga class in the park. Only $5 drop-in fee and open to all levels. Breath. Aah... what a nice way to end the day.

Historic Walking Tours
July – October
10:30 am
Louisville Public Library or Louisville Center for the Arts
This year, the historic downtown Louisville walking tours will be expanded to include a tour of a historic residential neighborhood (to be offered twice). Come learn about the history of some of Louisville's homes, schools, and churches, presented by Diane Marino. In addition, Anne Robinson will again offer tours of the downtown business district, focusing on Main Street and Front Street. Visit the Louisville Public Library website, www.louisville-library.org for more information and tour times and dates or call the Historical Museum 303-665-9048.
Some Sweet Business
Assorted Goods and Candy
Remember Chuckles, Zots and Bit O' Honey? Double Bubble and Mary Janes? Well you can get them all at Assorted Goods and Candy which recently opened at 706 Front Street. Stop in and check out the fun and nostaligic treats and toys. To kick things off Assorted Goods and Candy is giving away a 1983 Vintage Trek Road Bike to one of its lucky Facebook Fans! The winner will be announced on July 4th!
Bittersweet's New Location
Bittersweet Café, now located at 836 Main is now open with a full breakfast and lunch menu available with many vegetarian options. The beautiful new brick patio is a relaxing place to enjoy coffee overlooking Main Street and live music and entertainment every weekend. An outdoor food cart features gyros, burgers, hot dogs, and fries. Wednesday Nights are "open-mic night" on the new indoor stage.
So Be It Studios
Soul Painting, Sacred Breathwork, Restorative Yoga and Drum and Dance are a few of the classes offered at So Be It Studios in July. The Studio provides fun and inspiring sound health solutions based on the key principles of Vibrational Medicine. Their goal is to raise the vibration of the world; One person, One family, One community at a time by supporting the wholeness of each individual through highly efficient and effective educational experiences in day to day living.
Various offerings include: Yoga & Meditation; Pilates Classes & Barre; Nia, Dance, & Drumming; Far Infrared Sauna; Massage & other body work; Music & Sound Healing Concerts.
For more information, class times and dates, visit www.sobeitstudios.com or call 303-926-5316.